JONESIN' FRAME
The JONESIN' frame is Sam Jones' signature frame. As you may know Sam is a master of front end tricks and he designed his new frame with a steep 76° headangle especially for those moves. Coupled with a short 12.7-13.2" rear end and a 8.9" standover as well as using our new superscoop chainstay tubing for added tire clearance...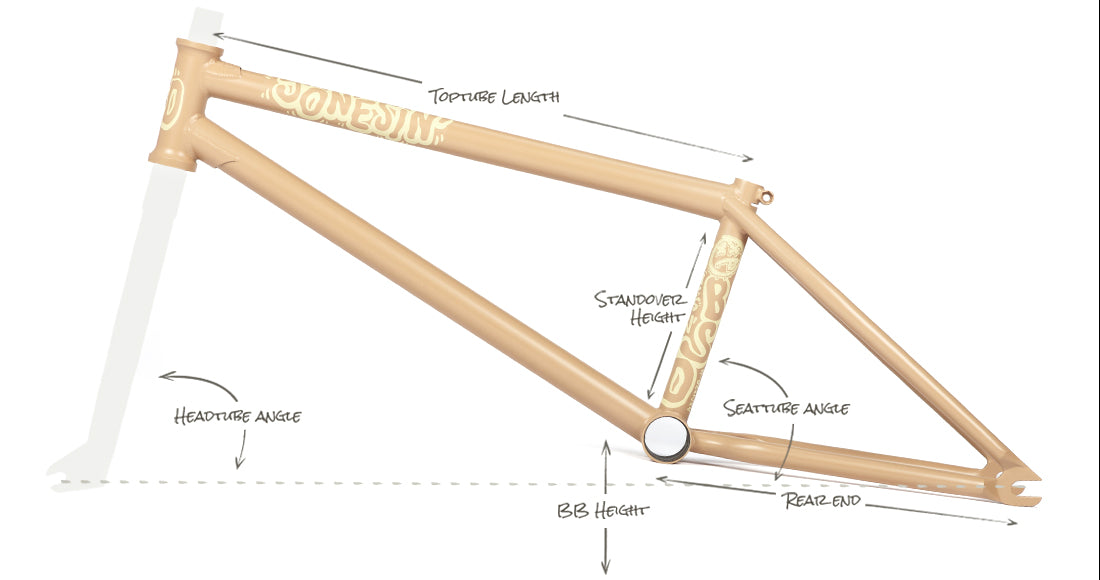 Toptube lengths
20.4

/

20.6

/

20.8

/

21
Headtube angle
76°
Headtube length
117mm
Seattube angle
71°
Rear end length
12.7-13.2"
BB Height
11.7"
Standover height
8.9"
Weight
5lbs
Brake mounts
none - brakeless
Tubing
Sanko Japanese seamless 4130 CrMo / triple butted
Headtube
Heat treated 4130 CrMo / CNC / Offset thickness
Bottom Bracket
Heat treated 4130 CrMo / CNC machined
Chainstay
SuperScoop tubing
Dropouts
Heat treated 4130 CrMo / Invest cast
Seatclamp
Built in
Colours
CUPPA CABANA

/

FLAT BLACK

/

APRICOT

/

FLAT RAW
SUPERSCOOP CHAINSTAY
Our new Superscoop chainstay provides more tire clearance for when your wheel is slammed. The tubing is press formed post bending to create extra room where it's needed most without the need for an invest cast yoke.
INVEST CAST DROPOUTS
The dropout is cast as one piece, much stronger than a plate welded to a tube. 7mm thick to provide good support for your axle, and the small shape has been designed for grinding meaning there's no overhang to catch on ledges or rails, also the dropout is heat treated before welding making it extra tough. And finally there are integrated chain tensioner bolts inside.  
INVEST CAST SEATSTAY BRIDGE
We've used a heat treated chromoly invest cast seatstay bridge on the Jonesin' frame which creates a stronger and more rigid rear end. Also because it's invest cast we were able to add a debossed Jonesin' graphic onto it, neat huh?