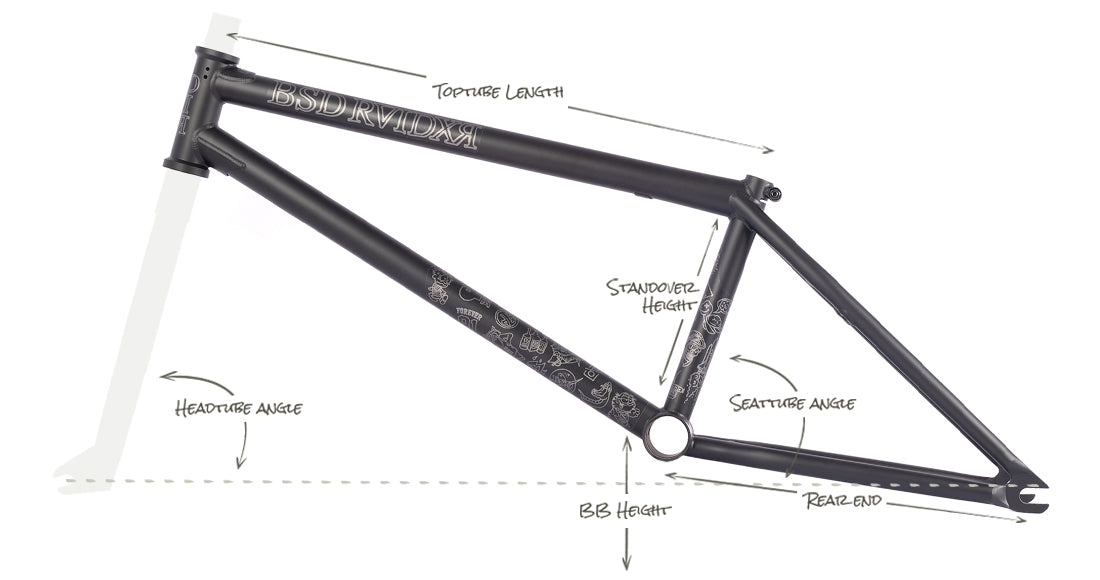 Toptube lengths
20.7

/

21

/

21.3

/

21.6

/

21.9
Headtube angle
75.2°
Headtube length
123mm
Seattube angle
71°
Rear end length
13.5-14"
BB Height
11.75"
Standover height
9.5"
Weight
5lbs
Brake mounts
removable - brake kit available separately
Tubing
Sanko Japanese seamless 4130 CrMo / triple butted
Headtube
Heat treated 4130 CrMo / CNC / Offset thickness
Bottom Bracket
Heat treated 4130 CrMo / CNC machined
Dropouts
Heat treated 4130 CrMo / Invest cast
Seatclamp
Built in
Colours
FLAT BLACK
INVEST CAST DROPOUTS
Because the dropout is cast as one piece it's much stronger than a plate welded to a tube. 7mm thick to provide good support for your axle, and the small shape has been designed for grinding meaning there's no overhang to catch on ledges or rails, also the dropout is heat treated before welding making it extra tough. And finally there;s an integrated chain tensioner bolts inside.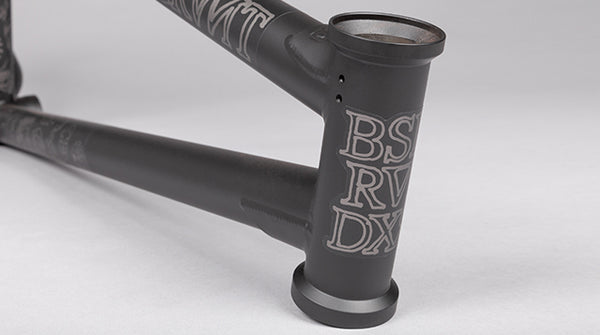 TALLER HEADTUBE
The Raider frame is a tall frame with a big standover and because of this it also has a taller headtube to keep the frame angles looking nice. The taller headtube distributes stress at the front of the frame over a larger area and also means you can run your stem and forks with no headset spacers for a cleaner look up front.
EXTERNAL GUSSETS
On a frame the highest concentration of stress is at the junctions between the headtube/toptube and headtube/downtube. To handle the pressures of modern riding, the required strength is achieved by beefing this area up using a combination of butted tubing and external gussets.